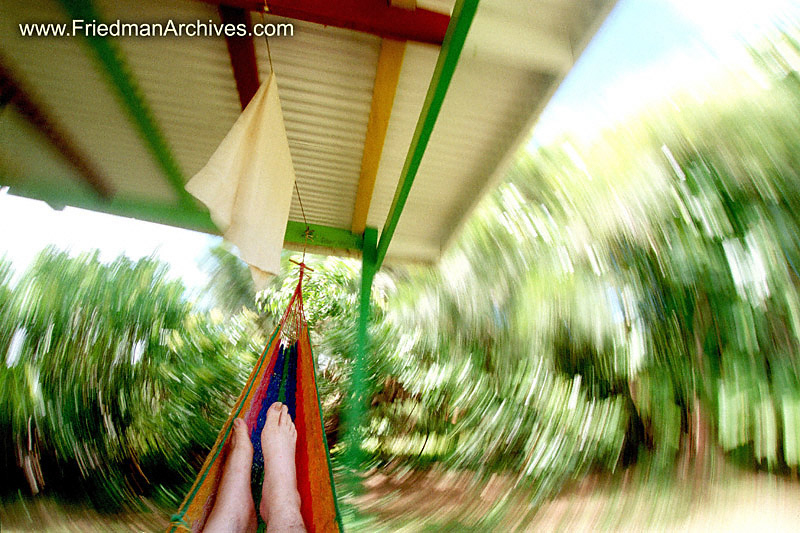 Also In This Issue:
The Increasing Value of Crappy Shots

Video of Hearts for Hue

Schedule time with me - I'll undercut Sony's price

In the Pipeline
[Special note: I had lofty goals for this blog post. I was going to share my tests of Sony's new video stabilization phone app for the newer cameras. My plans got cut short by a life event. Read to the end for more info. -GF]
The Shot That Got Me in Trouble With My Physicist Friends
The shot at the top of this page is a shot I took in Hawaii back in the 1990's (with film). The hammock was swinging, and I took my Minolta Maxxum 9xi (hated that camera), set it to a "slow" shutter speed (I think it was about 1/8th or 1/4 of a second). When you use a slow shutter speed, anything that moves relative to the camera looks blurry. So placing the camera on my chest and with the self-timer invoked, I got this clever little shot.
"You clearly Photoshopped that!", said one of my know-it-all physicist friends. Of course I hadn't; and I had a negative to prove it. Didn't matter. "Look at the roof! It's nice and sharp whereas you clearly only blurred the vegetation!"
Hmmm... And I have to tell you that had me scratching my head for awhile.
After a few days I figured out the answer: With a slow shutter speed, things that move look blurry. And the further away you are from the axis of rotation, the greater the blur. In this case, the axis of rotation is that wire that's doubling as a clothesline near the roof in the picture above. The ends of the hammock are attached to the ends of that wire. The further away you get from that wire, the blurrier things get.
And there you go. I have been vindicated! Moral to the story: Don't have smart friends.
In the Pipeline
Vietnam - What I Saw
It's been over a year since I was in Vietnam documenting the humanitarian work of "Hearts for Hue" NGO. In addition to lots of stills they can use for fundraising, I also produced this short video which provides a convenient overview. (Make sure you watch it until the very end!)
One-2-One Consulting
I see that both
Olympus
and
Sony
are offering online consulting. (Olympus' is actually free!) So since you have a lot of burning questions about camera settings and the craft of photography, and I have a lot of spare time until my ZV-1 arrives, I'm going to offer Zoom online consulting (
And I have a good video setup!
) cheaper than Sony: $50 for 30 minutes. Send me an email (Gary at Friedman Archives dot com) to schedule a time.
The Increasing Value of Crappy Shots
I never thought much of the Las Vegas Magicians Siegfried and Roy until I saw an ABC special documenting their life in showbiz. I didn't know that they created the illusions and staged the show themselves (I just thought they were presenters.)
So Roy Horn died on May 8th. Upon hearing the news, my mind went back to 1988, when I got a crew pass for a TV special they were filming at Disneyland starring George Burns. At the end of the hour, S&R made the castle disappear. I wasn't allowed to bring a camera, but I d
id sneak in my mom's point-and-shoot with no exposure compensation control and 1 roll of Fujicolor 400 film.
So I dug up those negatives and scanned them. They say that snapshots are like fine wine; they get more valuable to you as they age. Case in point: these shots are horrible, but they got a lot of likes on Facebook. :-)
You can see a few other crappy shots from that night
here
.
I enjoyed that night. I got to walk underneath Star Tours and see the flight simulator mechanism. I got to see Mickey Mouse with his head off (the actor was taking a break.) The best quote of the evening was made by George Burns, between takes: "I'm standing here shaking like a son-of-a-bitch."
A Life Event
Hospice nurses use the term "transitioning" when a patient is just days away from dying. That's how they described my father this morning. Normally the happiest guy in the world, now he lays unresponsive in a nursing home. They estimate that he has 1-2 days left.
So I'm not going to have much time for electronic communication in the next few weeks. And I'll probably post another blog post honoring my dad's life - he was 10 of the smartest people I've ever known. Stay tuned.
Gary
He was chief designer of the B2 stealth bomber. He was a Vice President of Northrop. He invented a new branch of math called Constraint Theory. He taught graduate level Engineering at USC for 20 years after he retired. And he's had Alzheimer's for the last 4 years. This is my niece holding his hand as of this morning.